Main
VIRGIL Training School, 1st session
Vietnam practIcal tRraining for sea Glider utILization
20-22 June, ICISE, Quy Nhon, Vietnam
IRD, VNU-HUS and DT-INSU/CNRS organized the first practical training school for utilization of sea glider in Vietnam at the ICISE center in Qui Nhon, Vietnam. During this first 3-day session, more than 20 participants from Vietnamese research institutes and laboratories attended this school and received an exhaustive training about the preparation, deployment and recovery of a SLOCUM sea glider from experts of DT-INSU/CNRS and IRD. SLOCUM gliders are autonomous scientific submarine vehicles that can be used to measure the physical (temperature and salinity) and biogeochemical (chlorophyll, oxygen and organic matter concentration) parameters from the surface down to 1000 m depth during more than 2 months.
A second session about the sea glider maintenance and data treatment and analysis will be organized at the end of 2018.
More information about the French Glider team here.
See some news about our school in the press.
More more information, contact Marine Herrmann, IRD
Some pictures of the first VIRGIL training school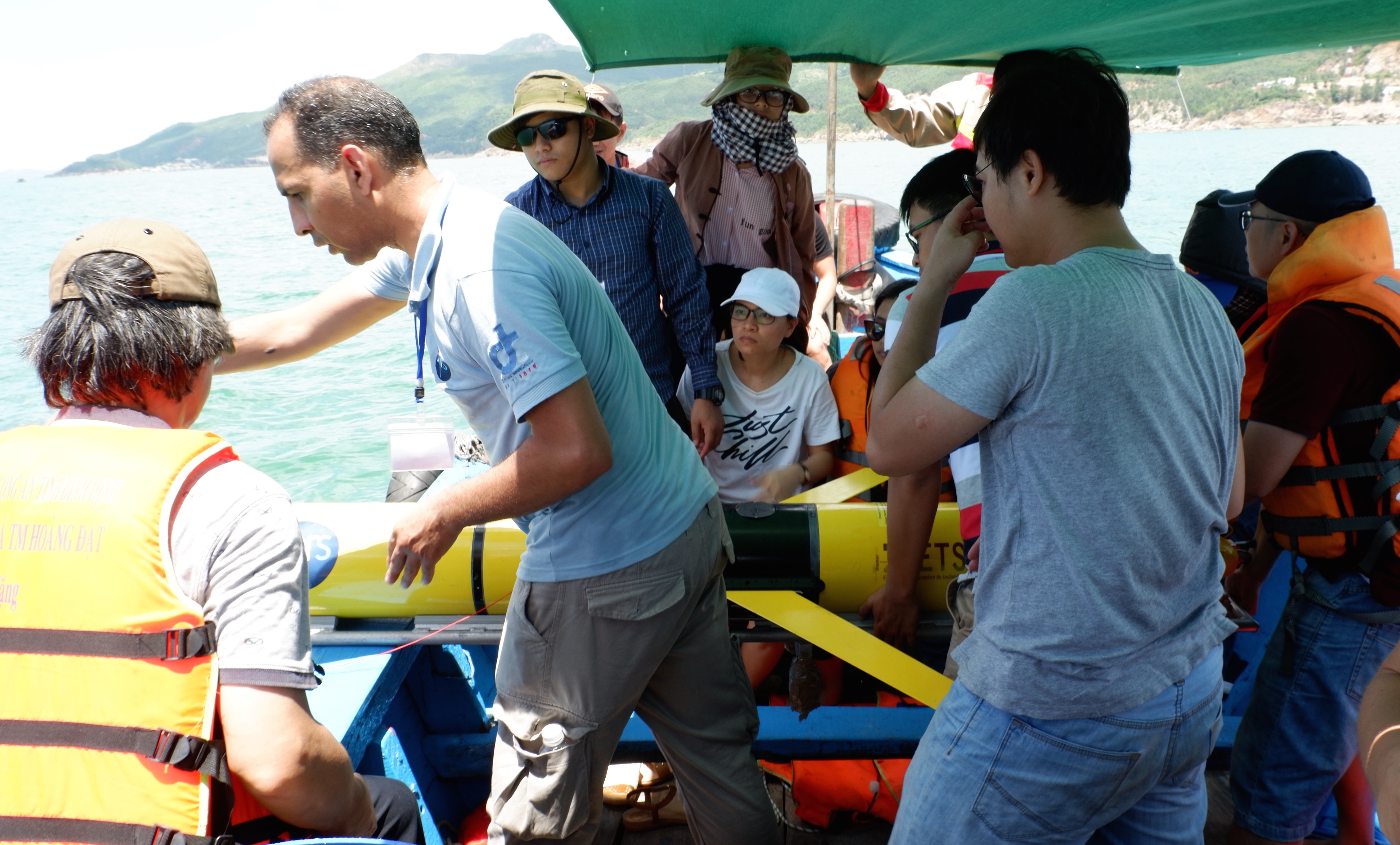 Program of VIRGIL training school, session 1
DAY 1
8:30 Bus departure for ICISE center
9:00 Arrival at ICISE center, welcome.
9:15 Presentation of glider : functioning, applications
10:30 Coffee Break
11:00 Presentation of glider : sensors, driving, data,
12:30 Lunch
14:00 Demonstration of tests to prepare the glider-indoor
15:30 Coffee Break
16:00 Demonstration of tests to prepare the glider-outdoor
18:00 Diner
19:00 Departure of bus for Quy Nhon
DAY2
7:45 Bus departure for ICISE center
8:15 Groups 1-2 : sea training ; Groups 3-4 : deployment position exercise
10:00 Coffee Break
10:30 Groups 3-4 : sea training ; Groups 1-2 : deployment position exercise
12:30 Lunch
14:00 Synthesis of morning practical work
15:30 Coffee Break
16:00 Practical exercises with data
18:00 Gala Diner
19:00 Departure of bus for Quy Nhon
DAY 3
7:30 Departure from Quy Nhon
8:00 Presentation of group projects
10:00 Coffee Break
10:20 Final questions and graduation
11:30 Lunch
12:30 Visit of Explora Sciences
13:00 Bus departure for the airport